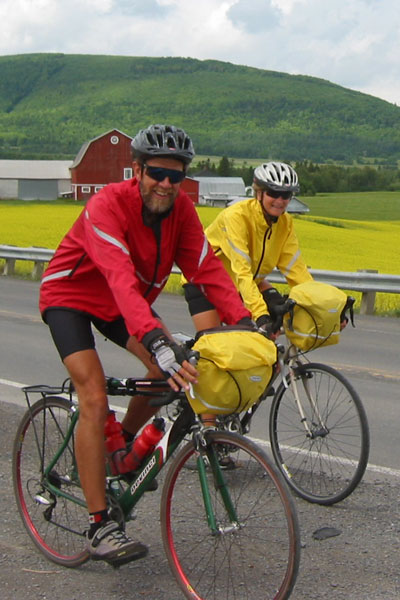 From May 24 to Aug 2, 2003 Rudy and Sue completed their two year 'sabbatical' by cycling across Canada. Together with Doug and Shirley (from North Gower, ON -- near Ottawa), the four of us set out to cycle across Canada, from coast to coast, going through each of the 10 provinces. And for the next 71 days that's what we did, cycling nearly 7300kms.
We bought a van and got Shirley's nephew Adam, and Adam's friend Jess to be our support crew. The six of us drove out to the west coast and on May 24 we dipped our bicycle wheels into the Pacific Ocean at White Rock, BC and set off on our adventure. We camped our way across the country, sleeping in tents and cooking on our campstove. Each day the four cyclists would head out early in the morning. Adam and Jess would usually sleep until around 10:30 and then they would pack up the van and meet us at our pre-arranged campsite.
Highlights included cycling through the Rockies, where the challenge of the long climbs was rewarded with some exhilarating rides DOWN the other side. The Prairies were perhaps the most difficult part of the trip, since the wind seemed to work against us more often than not. Still, with the wind at our back, we managed to cycle a couple of our longest days here (215kms from Austin to Steinbach, and then 200kms from Steinbach to Kenora). Northern Ontario was the opposite of what we expected -- beautiful scenery, rolling hills, (mostly) good roads, and not at all boring. By the time we reached southern Ontario it was getting to be summer holidays and we sure noticed the increased tourist traffic as we competed with trailers and motor-homes for a small share of the road. The scenery and the cycling was better once we got to the St. Lawrence in Quebec, with its narrow strips of farmland lining the river. And then came the dessert: having already cycled some of the Atlantic provinces in the past 2 summers, we knew what to expect there and we were not disappointed. The scenery from the top of some of the mountains along the Cabot Trail looks a lot more impressive when you've just spent the last hours peddling your bicycle up those steep slopes! And nothing beats the sun rising on the coast of Newfoundland and a light breeze at your back as you coast down to the harbour in St John's. After 59 days of cycling (with 12 'rest days'), after 71 nights of sleeping in a tent, after too many days of drying out our shirts and shoes under the hand dryer in a Tim Horton's washroom (and countless coffees and doughnuts while we're at it), on August 2 we dipped our wheels into the Atlantic Ocean. What a great sensation that was -- our effort and determination had propelled us across Canada, from coast to coast, and we had done it without injury or major break-downs (Rudy had a total of 4 flat tires, Sue had NONE).
Canada is a big country, and many people thought we were 'nuts' to cycle across it. But cycling really is a great way to see the country. For Rudy and Sue it was one of our traveling highlights.